Release tension, stiffness and pain
If you're feeling stiff with a limited range of movement, experience a series of gentle stretching and deep breathing exercises.

This is an uplifting and restful yoga series that will improve your overall vitality and connect you to a deep sense of inner peace.

If you feel overwhelmed, frazzled, on edge, have body aches, mental exhaustion or unrelenting illness, then you are especially welcome
Gentle Beginner Yoga for the Stiff and Inflexible:
Register:  Call Mt Airy Learning Tree 215-843-6333  or email info@mtairylearningtree.org to register.  Pre – Registration Required.

Day and Time of Course: Wednesdays – 7 PM – 8:15 PM,  Jan24th to Feb 7th  ( and make-up class  Tue Feb 13th)
Course Fee: $49.00
Location: Summit Presbyterian Church, 6757 Greene St, Mt Airy  (between Westview and Lincoln Drive Map  
 CLICK HERE TO REGISTER ONLINE:
https://aceweb.mtairylearningtree.org/CourseStatus.awp?&course=18WMB10
Register:  Call Mt Airy Learning Tree 215-843-6333 or email info@mtairylearningtree.org. 
Pre – Registration Required.
Arrivals : Please arrive 5  minutes early to settle in and decompress. Eat lightly and something easy to digest.
What to Bring/Wear: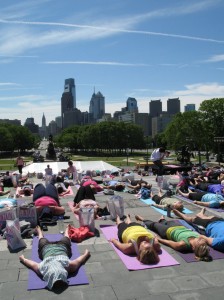 Clothes you can stretch in
A mat
Water bottle.
A willing heart
What Others Are Saying
" All the symptoms described in your summary and description of your class in the MALT catalog were ones that I have had to cope with since turning 40, 23 years ago, following an accident at work, that has led to yearly bouts of lumber back pain and spasms. I certainly have discomfort, hold tensions in my lumbar area and neck, and struggle with a low range of movement, despite being able to dance for up to 5 hours at a time, with little to no pains-when I maintain my daily stretching exercises.

The class was one I came to with fear, based on my last experience with a MALT yoga class led by another instructor, some three years ago.  I had also been experiencing bothersome headaches for over a week, including when I came into your welcoming greetings and attempts to try and help me with a yoga mat. I really enjoyed every aspect of the class, from the music that was so soothing, to the times spent relaxing with eyes closed and focusing on one's breathing and letting go of tensions, to the aroma therapy, and your comforting voice and words. I especially loved the closing minutes and the prayer in Sanscrit, that reminded me of Friends Meeting, and of yoga retreats at Pendle Hill, that I had experienced 38 years ago in my twenties.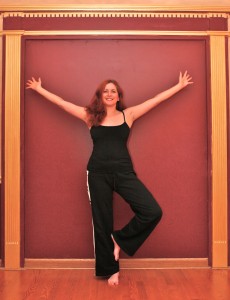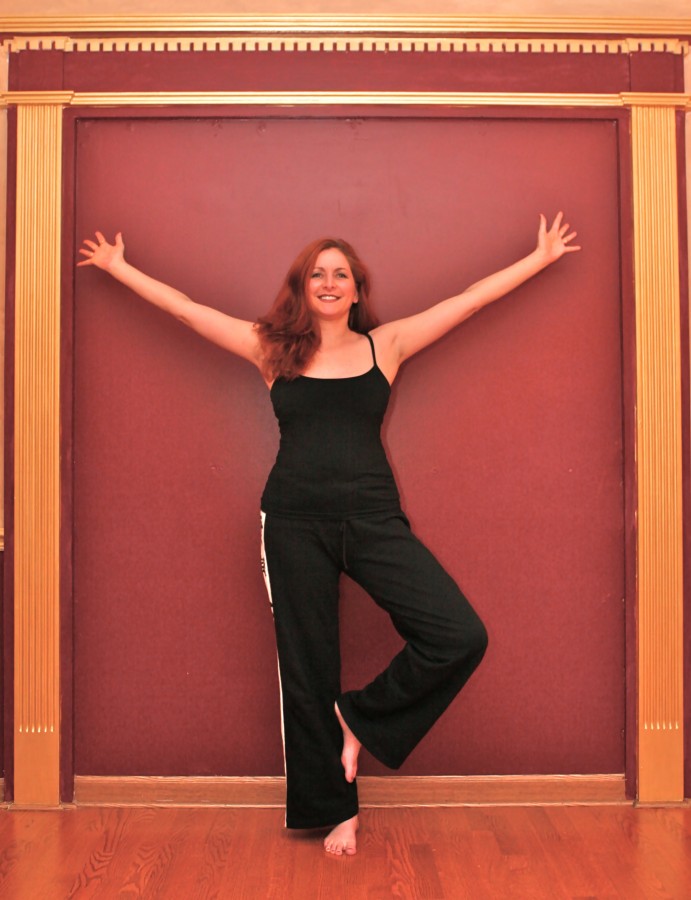 I experienced relaxation and a moving away from tensions held within, for the entire 75 minutes of class,but for darned cramps, and the aromatherapy and gentle suggestions and concerns you offered me were instrumental in my leaving your class feeling renewed, light, taller, and walking with a flowing motion. I felt joy instead of pain after class, and went home to show my wife the position that you mentioned helps with getting to sleep, one in which we were on our stomachs, with one leg out to the side. My wife was impressed and saw the difference in me after just one class. This was a class I should have joined years before instead of avoiding yoga out of fear.
Thank you again for your class, your gentle spirit of warmth and caring, and looking to help us find the Light of peace within each of us. I loved being in a circle with my other classmates.  " Nick
"Thank you so much Jasmine. The class was WONDERFUL. I felt like it was meant just for me. How special I felt. Thank you thank you thank you.  I am sending info to my friends about your wonderful class and your special gentle approach. I LOVED IT."  Donna Kelly
The class was very good for stretching and relaxation, as well as a great workout. I slept like a baby. I am looking forward to the next class!  Chris Conley
I just wanted to let you know how much I'm enjoying this class.  I have extremely tight muscles and joints and have tried yoga twice before, but this is the first time I've been able to stay with the class.  Although I still have miles to go, and my knees won't cooperate with certain poses, I am so thankful I found your class.  Paula Boffa-Taylor
Wow! This is how I feel about our class and my body is feeling the difference. I feel Greatttttttttttttt!!!!!!!! (smile) I notice I do not have the pain in my knee. I think i need to practice yoga more than once a week. It was several different yoga classes offered in the Malt catalog and i was not sure which one to take but I made the correct selection. You made me feel soooooooo comfortable. Joyce 
I thoroughly enjoy the class and wonder why yoga has not been a part of my life prior to this.  Jasmine is an excellent instructor and it is fascinating to see someone work within their gift.  Shannon
I cannot thank you enough for taking the time to show me how Yoga can help. It did provide some welcomed relief!!! Thank you again.  Jeri 
Jasmine is a compassionate, motivated, hard-working individual. She is willing to help others that want to make improvements in their lives by offering feedback and suggestions in a caring, supportive way. I would highly recommend her to anyone looking to find balance and inner peace.  Alisa Kamis-Brindis
I am missing yoga so very much and even keep asking Maria to call me Friday mornings because I am so determined to get back to feeling lovely and relaxed. I just enjoyed your teaching so much and wish I could be there.  I still talk about your class in my reading sessions for my clients and tell them "it is the best time and money you will ever invest in yourself"! hope to see you soon! Candy
"Jasmine totally ROCKS! MALT students love love love her and she seldom has seats left in her classes. I think it is for many reasons… she is fun, nice, caring, smart and funny! What is not to like? nothing… We love her! check it out"Jonna Naylor
An Interview with a Yoga Teacher about Yoga and Breast Cancer.
Questions to Ask Your Doctor and How to Find a Yoga Teacher
At 4wholeness.com, it is our intention to provide information to educate and empower women with choices as they make important health care decisions and journey to wholeness after breast cancer.
Today we are joined by Jasmine Kaloudis, a yoga instructor from the Philadelphia area.  Jasmine will share with us some of the ways that yoga can benefit individuals in their journey.
So Jasmine, thank you for being here with us today.
Is there any age limit for yoga? Physical restrictions?
Is there any pain involved in yoga?
There is no age limit for yoga.  As soon as they start crawling babies can do itsy-bitsy yoga.  Children can do kids yoga which is usually sprinkled with toys, games, songs and dancing.  Teens can start to do the more adult-form of yoga. Seniors and those with disabilities can do modified yoga or chair yoga.  There should never be pain in yoga that is sharp and needling.  You might feel your muscles ache from holding an intense pose for a while.  You should listen to your bodies messages about your limits and boundaries and stop or modify the pose so it is more comfortable.

People with certain medical conditions should not do certain yoga practices or should consult a medical practitioner that is also knowledgeable about yoga poses and contraindications.  For example, people with disc disease of the spine, extremely high or low blood pressure, glaucoma, retinal detachment, fragile or atherosclerotic arteries, a risk of blood clots, ear problems, severe osteoporosis, or cervical spondylitis should avoid some inverted poses.
Although yoga during pregnancy is safe if practiced under expert guidance, pregnant women should avoid certain poses that may be problematic and should only practice with a teacher trained in prenatal yoga.
What are some of the benefits that a breast cancer patient might experience with yoga?
Help cope with the side effects of cancer treatments, such as nausea, discomfort, pain, and fatigue;
Comfort themselves and ease the worries of cancer treatment and related stress;
Feel that they are more empowered with their own care and well-being.
Are there adjustments in traditional yoga poses and movements that can be made to accommodate cancer patients?
If you're taking a class and have difficulty with a pose, an experienced instructor will design an easier posture for you or give you modifications to make it more accessible. Many teachers use props such as blocks or cushions to make the practice more comfortable.
I would avoid doing down dog or any kind of arm balances since many women undergoing treatment might have a port put in or reduced arm strength from recent surgery.
So Yoga can reduce stress … how long does it typically take to see some sort of relief / result / or change from yoga?
People usually feel a deep sense of relief after one class.  To have this kind of sustained feeling of calm and tranquility, you need to have a regular practice.  Having a shorter, but more frequent practice of 15-20 min every day is better than 1 long class once a week.
Are there other healing services that you recommend or integrate with yoga for wholeness?
Tai Chi, Acupuncture,  Reiki, Aromatherapy with Therapeutic Grade Essential Oils,  Physical Therapy, Cranio – Sacral Work, Thai Massage (like a lazy person's yoga)
It can be a very traumatic and emotional period in a woman's life as she goes through cancer.  How do you, or how does yoga, deal with this in a yoga session?
Maintaining balance in your life while dealing with breast cancer can be difficult. Yoga focuses on the interactions between your mind, your body, and your behavior.
Restorative yoga, which is the most gentle kind of yoga, may provide some relief of fatigue and depression problems for women with breast cancer. In restorative yoga you can hold the poses for longer because you're being supported.
Practicing a flowing yoga (also called vinyasa, hot yoga or power yoga)  keeps the lymphatic fluid pumping throughout the body's channels, rather than accumulating or backing up. which increases the risk of llymphedema  It is great for maintaining healthy breast tissue.  It can facilitate renewed or restored strength, and flexibility. although arm balances will not be accessible to cancer survivors with reduced arm strength from recent surgery or if they have a port already inserted.
At what point during the breast cancer is it best to start yoga practice?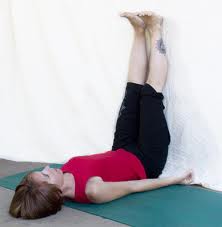 Consult with a health care provider that is knowledgeable about yoga before starting a practice. Ask about the physical demands of the type of yoga in which you are interested, as well as the training and experience of the yoga teacher you are considering
Typically how long is a yoga class or session? Usually 75-90 minutes
What are some of the questions a cancer patient should ask their cancer doctor with regard to yoga during and after treatment?
Help me cope, reduce my stress, and feel better?
Help me feel less tired?
Help me deal with cancer symptoms, such as pain, or side effects of treatment, such as nausea?
Improve my level of vitality and wellness?
Are there any kinds of yoga (hot, power) or poses (backbends, inversions, balancing) that I should avoid?
If I decide to try Yoga:
Will it interfere with my treatment or medicines?
Can you suggest a yoga practitioner for me to talk to?
Will you work with my yoga practitioner?
What questions should a woman ask as she researches various yoga studios, practices and instructors?
Ask your doctor or nurse to suggest someone or speak with someone who knows about yoga.
Ask whether someone at your cancer center or doctor's office can help you find a yoga teacher. There may be a social worker or physical therapist who can help you.
Ask whether your hospital keeps lists of centers or has staff who can suggest people.
Contact Yoga Alliance to get names of practitioners who are certified. This means that they have proper training in their field.
Contact local health and wellness organizations.
Ask about each practitioner's training and experience. They should be certified a Yoga Alliance approved school.
Call your health care plan to see if it covers yoga.
Are there credentials that are required to teach yoga?
It should be from a Yoga Alliance Approved Facility.  The minimum number of hours is 200 but I would learn from a teacher that has 500.  It's a plus if they have some kind of bodywork or medical background such as massage therapist, physical therapist etc.
Why do women resonate with yoga?
Women have participated in dance or gymnastic-oriented activities since they were little and they are more naturally inclined, I think it's easier for women to be beginners at things as adults. For men this is really hard, especially at something that's physical where they're used to not being a beginner.  Men are more concerned about performance in exercise and sports endeavors and probably have more anxiety about not doing the poses right and looking bad in front of a group.
A regular and consistent yoga practice will give you more enthusiam to get back in the rhythym of the rest of you life.
Women are often more externally focused on others (kids, husbands, co-workers etc) that in a yoga practice, you are encouraged to only focus on yourself which is such a relief.
Does it bring them to a more balanced, a more whole part of themselves after the trauma of cancer?
Cancer patients often find themselves in distracted states of mind—bombarded as they are by frightening, sometimes contradictory, information, subjected to invasive, painful procedures, and not-always-compassionate medical care.
When our minds are so grievously disturbed, we may find it impossible to make crucial decisions or relate satisfactorily to our family and friends.
When the tension is released, energy can flow more easily in the body and allow patients to experience a sense of well-being, emotional mastery and strength.  Yoga might not affect your recovery on a physical level but it can change your perspective so that you are able to face difficult situations with less fear and more calm and emotional mastery.
Restorative yoga, which is the most gentle kind of yoga, may provide some relief of fatigue and depression problems for women with breast cancer.
Is there anything else you would like to let our visitors know?
There are lots of ways to learn about yoga besides just going to a class if are anxious about your body or performance. There are all kinds of DVDs and all kinds of free resources online, especially youtube.  Watch some of these first so you have a level of familiarity with the poses and sequences.