Yoga Events/Parties at Your Home
Private Yoga Instruction in the Philadelphia Metro Area.
Looking for a fun way to celebrate a Birthday, Anniversary, Retirement, Mother's Day, Father's Day, Wedding shower, Bachlorette party, celebrate your newfound singledom?
Do you have a large group such as a church or temple event that needs a private yoga teacher?
You can also commemorate memorials in a spiritual and respectful way with a private class with a special candle-light meditation in honor of the deceased at the end.
Contact us at 610-352-1177 or info at synergybyjasmine.com for a quote at your home or office.
Share lots giggles, playfulness, smiles and laughter.
Renew the celebration with your partner, classmates, co-workers or friends.


Experience moments of soulful relaxation.
Feel profoundly connected to a group or friend or with a loved one.
Healing and transformative
Reduce physical aches and pains, tensions and anxieties
Ideal for beginners and unathletic types.
Gentle Beginner Yoga for the Stiff and Inflexible Events Calendar

Return to your daily activities with more energy and enthusiasm.
Find a peaceful and supportive community and instill in you a quiet inner calm.
Enjoy a life-affirming practice.


Release tension, stiffness and pain.
Find Philadelphia beginner yoga classes near you.
WHY SHOULD I TAKE THIS CLASS?
If you're feeling stiff with a limited range of movement, experience a series of gentle stretching and deep breathing exercises.
This is an uplifting and restful yoga class that will improve your overall vitality and connect you to a deep sense of inner peace.
If you feel overwhelmed, frazzled, on edge, have body aches, mental exhaustion or unrelenting illness, then you are especially welcomed.

Feeling disconnected from your sweetie?
Is watching Netflix on the coach the primary way you spend time together?
Bring your beloved to a fun-filled, spiritually uplifting, and invigorating class of partner yoga for couples. As you learn how to breathe and flow together on the mat, you'll learn how to find ease and balance in your relationship off the mat. In Partner Yoga for Couples, you will;
Deepen your compassion, trust, sensitivity, and love for each other
Enjoy a healthy, playful, and life-affirming practice that you can take home and share together
Learn how to adapt the postures to accommodate various body sizes, fitness levels, flexibility levels, and yoga experience
Celebrate and honor each other's uniqueness while connecting with the one spirit that unites you.
Yoga increases romance and intimacy.
Yoga postures can be enjoyably developed and extended using the support and guidance of a partner. Doing yoga with a partner's support can be especially helpful when there are restrictions because of injury or individual capability.
The contact and assistance of a partner can enhance and develop the posture within individual ability. There is also the advantage of promoting an atmosphere of greater relaxation because you are practicing it with a person you trust and are confident about.
Union is the essence of yoga. Partner Yoga or Yoga for Couples is a gentle practice which combines yoga and massage.  Joining in postures and stretches while supporting each other, enhances awareness while also bringing new depth to one's connection.  The practice takes you to a place where you can take a retreat from your normal self and be focused on play.
Partner Yoga focuses the mind. It increases strength and flexibility which are done in the spirit of nurturing and child-like play.   The practice builds trust, communication and intimacy on verbal and non-verbal levels.  You learn to practice enforcing your boundaries and limits in a spirit of compassion.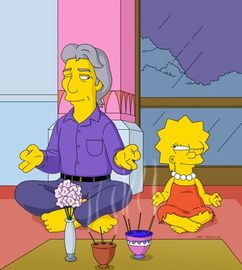 Yoga for couples is a fun adventure into intimacy, play and relaxation. The poses are simply a way for couples to step deeper into their being. When you stretch with your partner, you melt each others tensions. Whether your relationship is fresh or stale, working together in yoga can potentially renew your connection with your self and your significant other.
When you feel safe and supported you develop the courage to trust others and the strength to confront your fears and embrace your true self.  Partner Yoga uses various movements and poses to focus the mind and increase strength, stamina and flexibility which are done in the spirit of nurturing and play.  Since yoga is usually such an internally-focused practice, being focused on your significant other is a way to enrich not only your own spirit but your loved one's as well.
Partner Yoga is a wholesome way to learn surrender, build trust, and deepen intimacy. If you have never done partner yoga before, it is both meaningful and fun, and people say that they feel more open-hearted.
Some poses challenge your balance and strength.  Others require your total trust and surrender. Each exercise and breathing technique uses the power of the partnership. Partner can often achieve more than if they were practicing alone.  This yoga style requires no special equipment and can be done in any open space.
Bring your beloved to a delicious, spiritually uplifting, and nurturing retreat in the rustic country-side of West Chester.
Enjoy the beautiful grounds as soak in the sunshine and positive energy while attending one our mini-retreats.
Connect authentically without distractions.
Connect in a revitalizing, strengthening, energizing and uplifting way
Release stress and stiffness.
Explore playfulness, nurturing and buoyancy.
Learn how to guide, honor, encourage, support and receive support from each other
Find a new sense of expansion, flexibility and openness in your muscles and joints.
Enrich your spirit by focusing on your beloved and letting your beloved be focused on you.
No previous yoga  experience is necessary. Beginners and the inflexible are especially welcome.
Explore your sense of adventure by hiking in nature, sitting by the fire and escaping to a private, intimate rustic retreat house
WHAT IS INCLUDED
Gentle couples yoga sessions and guided massage lesson
Coffee and tea upon arrival
Fireside snuggles with your beloved
Beautiful grounds to hike and explore
WHAT TO BRING/WEAR
Yoga Mat
Cozy clothes to stretch in
Water bottle
A willing heart
Hiking shoes, snacks,  sweater,  small present for your beloved, clothes to hike in (all optional but recommended)
Morning Retreat 10 – 1 pm
Arrivals and intros over coffee and tea starting at 10 am.
Please arrive no later than 10:10 am so we can begin on time without disruptions.
There is beautiful hiking and nature walks on the grounds, feel free to stay and explore the grounds.
Afternoon Retreat 2 – 5 pm
Arrivals and intros over coffee and tea starting at 2 pm.
Please arrive no later than 2:10 pm so we can begin on time without disruptions.
There is beautiful hiking and nature walks on the grounds, feel free to arrive earlier to explore the grounds.
Reduce Absenteism from Sick and Weary Workers
Provide a class that helps employees manage stress so they can be calmer and more focused
An Uplifting, Inspiring Workout to Help Tone and Tighten Flabby Muscles
Help Overweight Employees with an Inspired and Challenging Workout that All Fitness Levels Can do.
Contact us at 610-352-1177 or info at synergybyjasmine.com for a quote at your office.
Benefits of  Yoga at the Workplace
Reduce Stress and Anxiety
Improve Morale and Relations amongst Staff and Management
Empowers staff with tools to deal with pressure, deadlines with control and calm
Improve decision making and reduce anger
Learn techniques to energize and become calm
Helps raise self-esteem and gives techniques for self-management
Helps foster a more cooperative and fun atmosphere
Reduces aches, pain, backaches, headaches, immunity
Reduce absenteeism due to sickness and exhaustion
Promote well being & team building in the workplace
Decrease corporate health care expenses
Help employees work more and better
Team-building
Locations in  Manayunk, West Chester, 

We look forward to connecting!