When was the last time you got lost in your beloved's eyes?
When was the last time you had an endless loving full body embrace?
Flex. Float. Melt
Get that 5th date feeling back with a spicy and soulful Yoga-licious night.
As you go through the motions together, you and your partner can expect a closer, more romantic and more soulful relationship than ever with each other through giggles, movement and massage.
Start off the class with a guided meditation where you are your partner will form an intention together.
You and your partner will do a silent blessing of gratitude to each other.
You'll start to synchronize your breath and then slowly move in unison.
As we progress, you will do poses where you mirror each other, juxtaposing your bodies.
You will be assisting and adjusting in each other in poses in simple easy-to-follow instruction.
The poses are sometimes silly, sometimes challenging and sometimes restorative.
After we are done with partner yoga poses you will then receive a guided Thai massage from your partner emphasizing loving intention.
You won't be worrying about technique or skill.
Your partner will do moves that relieve pain and stiffness and leave you feeling like you are blissfully floating.
After you both have received loving massages you will relax in stillness curled up in your beloved.
The class ends with you in a loving  and lingering full body embrace with your beloved.
Connect in a revitalizing, strengthening, energizing and uplifting way
Release stress and stiffness and tightness and tension.
Explore playfulness, nurturing, romance and buoyancy.
Learn how to guide, honor, encourage, support and receive support from each other
Yoga virgins, the stiff and inflexible are especially welcome.
Ideal for Birthdays, Celebrations, Anniversaries and Romantic Date Nights
Sample Video of a Couples Yoga Class
You can also call 610-352-1177 and pay on the phone with a credit card.  
Times:  Friday nights at 8 pm.  
Spots ARE ONLY available for  Feb 21st and Feb 28th.

Location:   Flat Rock Health, 4026 Main Street, Manayunk, PA 19127.  Near Shurs Lane
Parking : Free parking is on Main St near CVS.  Metered Parking is in front of the building – free after 8pm.
Arrivals : Please arrive 15 minutes before class starts to settle in so we can start on time without disruptions.
What to Bring/Wear: Please wear clothes you can stretch in, a water bottle and a willing heart.
Before: Avoid eating a heavy meal before.  Eat something light and easy to digest.
After: Plan on having a romantic evening at home with candles, soft music, wine or herbal tea.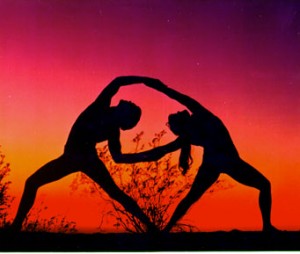 Public Transit: Transit: Wissahickon (0.3 mi SE)
Manayunk/Norristown Line
Directions:
From Rt. I-76 W
Take I-76 W until exit 338 for Belmont Avenue, heading towards Green Lane. Turn right at Belmont Avenue/Green Lane. Then take the first right onto Main Street.  In little more than half a mile, we will be on the left in a non-descript looking office building.  If you pass the CVS you have gone too far.
From Kelly Drive
Heading Northwest on Kelly Drive, take a right at Midvale Avenue and a quick left onto Ridge Avenue. Follow Ridge Avenue for a mile, it will become Main Street. We will be on your right in a non-descript looking office building just past the CVS.
4 ways to get the right start in partners yoga
1. Don't assume partner yoga is only for couples.
Some partner yoga classes allow you to sign up as a solo participant and seek out a partner in the class itself. If you go this route and you're new to partners yoga, try to pair with a student who's about your height and weight. Mahoney notes that as you get used to the practice, learning to adapt the postures to two different body types is a rewarding challenge.
2. Don't expect miracles.
If you begin a couples yoga class with an existing partner, talk with each other before going to the first class about what you want from this. Try not to let your expectations get overblown in terms of how the class can remedy any specific relationship challenges you're having. Go in with an open mind and heart — not with a sense that this is going to fix something, but a willingness to learn and grow together by sharing and connecting through yoga.
3. Be ready to be giving.
As a supportive partner, your role is to listen as well as share openly, and to treat the person you're practicing with as you'd like to be treated. Sound familiar? By exploring physical give-and-take, you and your partner can dive deeply into the principles that govern successful, supportive friendships and loving relationships.
4. Enjoy the moment.
Be present and focus on each other during your partner yoga class or practice — and try not to take anything too seriously, cautions Mahoney. "Take a deep breath and relax. Laugh together. Partner yoga is full of the hilarious and the divine."
A partner yoga pose sequence to try
Child's pose is a simple favorite to explore with a partner, Mahoney says. "Everyone loves the deep release that the partnered variations give the sacrum and lower back. Child's pose can also serve as a solid base for other heart openers such as Camel pose."
Start with this how-to video for child's pose from the Gaiam Yoga Club:
Now add the couples elements: For a simple but delightful partners yoga massage, Mahoney suggests beginning with one partner resting in child's pose and then moving into the following sequence:
The active partner stands between the resting partner's outstretched hands, and the resting partner takes firm hold of the active partner's ankles.
The active partner leans forward and walks hands down the resting partner's back until you come to an Upward Dog-like position with hands resting on the lower lumbar or sacral area of the back.
From here, the active partner moves his or her weight forward into the hands to give the resting partner a deep low-back release.
The active partner shifts weight back into his or her heels, releasing the pressure. Repeat several times. Very, very nice!
Romance in Philadelphia.
Monday
Tuesday
Wednesday
Thursday
Friday
Saturday
Sunday
1

2

3

4

5

6

7

8

9

10

11

12

13

14

15

16

17

18

19

20

21

22

23

24

25

26

27

28

29

30

31

Couples Yoga Therapy
  Couples Yoga is a medium created to build stronger communication and intimacy between human beings in a relationship. These Yoga Postures, breathing exercises and meditations are designed specifically to bring communication into a tangible form. We are here to help you to discover and experience the dynamics existing within your relationshipCouples Yoga compels companions to lay aside their differences while working to achieve a common goal. The simple act of breathing together and participating in a practice grounded in acceptance, unity and love translates to more open and authentic communication between partners.This practice re-establishes weakened bonds. On the mat partners must have complete faith in each other. Postures are dependent on showing up for one another and giving equal effort. It is developed on trust and is a great metaphor for the nut and bolt aspect of all relationships.There's no finished, perfect pose or situation. This is about learning new methods to connect, and cooperate, while finding new ways to support each other.In these sessions you will learn a combination of the following practices:
Yoga postures
Breathing exercises
Partner Meditations
Massage techniques
Affirming your partner and Being Affirmed
There was an issue loading your timed LeadBox™. Please check plugin settings.
There was an issue loading your exit LeadBox™. Please check plugin settings.