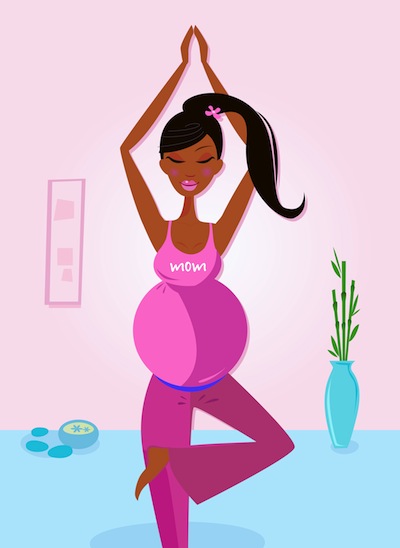 Breath is Life. The first thing we do when we are born is inhale, the last thing we do when we die, is exhale. Our lives are made up of all the breaths in between. Breathing is essential to life, but it is also essential to creating life.
Stress and Infertility – How Yoga Helps Infertility

When we go through infertility we are often stressed, we breathe shallowly and our body starts to hold inside all the disappointment, hurt and fear. Both physical and emotional pain gets stored in our bodies as stress. When we are stressed-Cortisol is released in the brain, which impedes our ability to conceive by affecting the hormones that are responsible for ovulation and healthy gynecological function. Yoga teaches us to open the body with the breath, creating the ability to arrest the stress response, balance hormones and return the body, emotions and mind to a relaxed state.
You can literally learn to "breathe to conceive" as breath affects your state of being on every level, you learn to receive life literally and figuratively. The breath is the most effective tool we have to stop the "fight or flight" stress response of the sympathetic nervous system and return it to "the relaxation response" of the parasympathetic nervous system.
Improved Physical Health
Yoga can also impact the general reproductive health of women trying to conceive. Yoga tones and strengthens the muscles that support reproductive organs and improves spinal alignment, enabling better circulation and improved capacity and quality of respiration.  For women who are taking infertility drugs, better breathing can also help the body fight off the toxic effects of those drugs.
Reducing the Physical Effects of Stress
Yoga is perfect for dealing with one of the most pervasive mind/body fertility challenges: stress, often stress caused by the inability to get or stay pregnant. Women experiencing infertility are often stress- and pain-filled, saddened and angry.  These emotions generate chemicals in the body that weaken immunity and make for a less hospitable environment for a new life. Yoga, because of its use of relaxation breathing techniques, combined with the flushing out of physical toxins, provides an antidote to the negative physical impacts of anxiety, anger and depression.  It also helps to change your perspective to a more objective, detached state of mind so you start to view your challenges with more calm and control.
To treat infertility with yoga there a some basic steps you can take to get you started. This first thing is to reduce your stress level. Stress can cause your hormones and organs to become off balance. When you are not in balance your body is not working to it's full potential. Yoga breathing will help calm the body and mind replacing the negative thoughts with positive.
There are specific poses in yoga that focus on your reproductive organs and pelvic area to increase blood flow and stimulate energy. There are also poses that soften the abdominal area clearing tension from the uterus, ovaries and fallopian tubes which will increase their productivity. Where are Fertility Yoga Classes in Philadelphia?  Does meditation help infertility?
Yoga will bring balance to your body, mind, and soul specifically your hormone levels. These poses will improve your glandular function which will stabilize hormones. In order for the reproductive process to occur your hormones must be in balance.   What are the best Yoga Fertility Poses? Can Infertility be helped with Yoga?
Yoga and Fertility, Infertility -  Not the Cure-all
This is not to say that yoga is an instant fertility potion, or that it works for everyone. It is not a quick-fix.  It does aid to keep your inner peace, which can be very hard when struggling with infertility due to the frustration, anxiety, sadness and despair that infertility can produce.
=======================================================================
Post your thoughts on our Facebook page.
===============================
For free articles about yoga mailed once a month, email  info at synergybyjasmine dot com with "Request Yoga Tips" in headline.
Twitter – synergyjasmine
Facebook – www.facebook.com/couplesyoga
You Tube – http://www.youtube.com/user/SynergybyJasmine
Published for synergybyjasmine.com


Jasmine Kaloudis teaches yoga pregnancy  yoga fertility classes in Philadelphia and is the author of the Best Meditation Websites  for 2011
RECENT BLOG POSTS