If you feel powerless to resist these sweet morsels of the devil in a plastic-wrap like I do, then why not make them in a way that is clean, pure but still tummy-rubbing satisfying?   Fat-burning brownies?  Pizza?  Cheese Stuff rolled?  Focaccia?  Muffins?   Crepes?   New York cheesecake with raspberries on top?  All Gluten-free? I can feel the drool leaving my mouth just thinking of these things…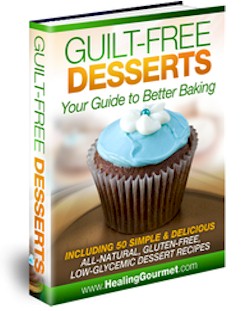 Author, and diabetes coach Kelley Herring whips up foods for those in a healing crisis such as diabetes, cancer or just overweight with low-glycemic, low-sugar foods for healthy living.  At this stage of the game, we all know the culprits are things like blueberry muffins, Dominos, …. anything cheesy or sugary seems to be satan to our butts and thighs. But just imagine a…fat burning brownie!!  She includes this in her gluten free desserts book.
Gluten-Free Desserts Book
Kelley Herring is the Editor-in-Chief of many clean-eating cookbooks including: Eat to Fight Cancer, Eat to Beat Diabetes, Eat to Lower Cholesterol and Eat to Boost Fertility. Her books which are available online as downloads are: Guilt-Free Desserts,  Better Breads,  and Awesome Appetizers.
She taught me about a fiber which adds a "cotton-candy" sweetness and creamy mouth feel to desserts that feeds good bacteria in the gut as well as covering the bad side of artificial sweeteners (Equal, NutraSweet might as well be Lysol in a pretty packet that you can sprinkle on your coffee).
She describes an alternative to sugar that have zero calories and no glycemic impact which will be critical for diabetics or anyone that wants to lose some blubber around the middle.  In her recipes, you'll see how to add "invisible fiber" to your desserts that doesn't change flavor, texture or preparation.
She even substituted the evil ingredients with "metabolic power ingredients" which help to keep your blood sugar stable and even "stoke your body's fat-burning furnace:.  Many conventional comfort food recipes such as chocolate mousse, cheesecake, pizza, muffins, creme brulee and mucho mucho others were given a "total health makeover" while keeping all the taste, texture, moisture and decadent sweetness.

Some of the ingredients will be trickier to find such as non-aluminum baking powder, organic coconut flour, agar agar powder, chia meal, erythritol, xanthan gum, pasture-raised eggs, SweetLeaf Stevia Vanilla Creme Liquid Stevia, Organic Sunbutter and a few others.  Most of the other ingredients call for organic ingredients and often will be chemical-free, processed sugar free and they contain ingredients that are minimally refined or processed (if at all) in this gluten free desserts book.
You probably won't be able to find these ingredients at your local average supermarket and will have to get many of the ingredients at a specialty health food store such as Whole Foods.  You might be able to get some of the ingredients at a local farmer's market such as the pasture raised eggs.  She often gives resources for where to get some of the ingredients online.

I chose to make the brownies and there were about 2 sticks of pasture raised butter and 6 pasture raised eggs in there.  It was a simple recipe to make and I always love to lick the bowl and beaters after I have mixed up all the ingredients.  After about 25 minutes in the oven, my steamy brownies came out and the perfume of chocolate was wafting throughout the house.  The texture was like a brownie, mousse and souffle…….  light, dense and moist all at once.  It is taking every once of my limited will power to just not eat the whole pan right now (If I did that, could I lose a few more pounds?)
Often when I make low-fat or gluten free baked goods, there is something missing in the texture or the sweetness is off.  Not so with the brownies….  only problem is that they are TOO yum-yum.  When I am God, I am going to make broccoli taste like cheesecake, and cheesecake taste like broccoli.
Probably the most unusual ingredient in a cupcake is organic cannellini beans for the Yellow Cupcakes.  (It's so strange though that it has to be good)
Have you ever cooked a gluten-free, or naturally sweetened (with Stevia or coconut sugar dessert)?  If yes, what results did you get?  What did your friends and family think? 
So if you want to cook gluten-free desserts or gluten-free fat burning brownies, cupcakes, breads or any other yummy things then start cooking with Kelly Herring's gluten free desserts book.