My completely subjective list of the top 100 Mind Body Spirit Sites. How did I come up with this list?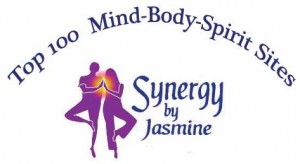 Many of the teachers, products or retreat centers I have personal experience with. They have shaped my yoga journey and other parts of my non-yoga life. I have taken many of their classes or workshops or bought their DVDs and have practiced to it dozens of times. A few are sites that I regularly read their posts. Some are because the website or author has written an influential book in this realm. Admittedly, some of the sites might be weak on content, functionality or navigation but the site is just an intro to a great holistic resource. A few are places that I write guest blogs for.
Some of them happened to be special because of the key role they played in certain parts of my life. I met my husband at Omega, our romance blossomed at Kripalu and we had our wedding ceremony in a Mexican Cenote (limestone water cavern) with a Mayan Shaman.
I can't imagine not having music during my yoga practice so there are a few yoga music sites on here as well and I bought many of the musician's CDs or have been to their concerts. Authenticity and having personal experience with the practitioner, product or institution was part of the criteria for making this list. In a way, it is an "Appreciation" list
I wanted to include a few government sites since those often have all kinds of great research and clinical trials on there. My vision is for this list to be a great gateway into the holistic world, with a strong emphasis on yoga since I'm a yoga teacher. Yogis need special clothes, props, mats, spaces, music and equipment so I wanted to include some of my favorite places to buy all things yogic. If you have been involved with the holistic community for a while you will recognize some of the sites on here and likely find dozens of great resources here
I welcome suggestions for other sites that can be included in next year's list. While we all value directness and constructive criticism, please be professional and refrain from disparaging comments… no trashing anyone on this list or that will disqualify you from being considered for next year. Ideally, you would nominate another company but I do accept self-nominations. I reached out to the webmasters of most of the sites and if something is in quotes, then it is in their words and not mine. This is a  list of the top Mind Body Spirit Websites.  I also include resources for couples meditation in Delaware County and suggestions for hot yoga DVDs, books, hatha yoga, gentle yoga and prenatal yoga.
If you live in Philly or San Diego, then invite me over for a class or workshop so I can maybe include you in next year's list or blog about it in an upcoming blog. If you have products that you want me to review let me know and I will send you a mailing address in a separate email (press at synergybyjasmine.com) with "Product Review Request" in the subject.