Date night with a twist….. Couples Yoga… & Get that 5th date feeling back!
Looking for a meaningful gift and not sure what to buy for that stressed out couple ?
Always complaining you never have quality time together…yada..yada….yada?
Want to help your sweetie de-stress and rekindle that 5th date feeling?
Make the next date night spicy and soulful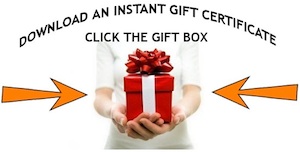 As you move together in class  you and your partner can expect a closer, more romantic and more soulful relationship than ever through giggles, movement and massage.
Connect in a revitalizing, strengthening, energizing and uplifting way
Release stress and stiffness.
Explore playfulness, nurturing and buoyancy.
Learn how to guide, honor, encourage, support and receive support from each other
Yoga virgins, the stiff and inflexible are especially welcome
A Yoga Gift Certificate can either be purchased for one couples yoga class at $40 per couple. Click here to design your gift.
Romantic Date Nights
Anniversary or Birthday
Wedding Gifts and Valentines Day
Mother's and Father's Day
Christmas and Hanukkah
You order online, and can instantly print or email it to your loved one so they can receive it instantly.
No SNAIL-MAIL, no FUSS, no WAITING, ideal gift from procrastinators!

Gift Certificates for classes must be redeemed within one year of date or purchase and are not redeemable for cash.
WHAT TO CONSIDER WHEN BUYING A YOGA GIFT CERTIFICATE
Create a Yoga Game Plan
A yoga experience is a thoughtful gift, destined to make the recipient happy and you a hero. Yoga Emergency is here to make it easy and instant! We'll help you find the perfect yoga gift!
Why a yoga gift certificate? Homer was once asked, "What do you do after a long Odyssey to take the edge off?" Without hesitation, the hero responded, "After extricating my sandals from my feet, I settle down for  yoga in the waters of Meles."
Perhaps you will not exactly replicate Homer's yoga experience for your special someone, but you can choose a luxurious yoga experience that will symbolize exactly how you feel.
Buying for Her
The woman in your life would love a yoga experience — just follow our simple rules in buying yoga for her.
Find out what kind of yoga girl she is to help pick the perfect gift.
Buying for Him – Yoga for Men
How to introduce yoga to your man (even if he doesn't know he wants it).
Yoga Speak and Yoga Terms
There's lots of different kinds of yogas — choose the right type of yoga.
Learn all about different yoga treatments.
Yoga Gift Certificates for a Woman
Do you have that sinking feeling you have forgotten something important? Is it her birthday, or worse yet, your anniversary? Don't sweat it! An instant, online, yoga gift certificate will make you look like a hero and her feel special. You hesitate because you worry that it will be difficult and complex. Relax, follow these simple rules to choose a spectacular yoga gift.
Know who the gift certificate is for and make sure it matches the occasion. Do you have a new girlfriend and want to give her a relaxing yoga gift certificate?   Pregnant women have special needs when it comes to a yoga class and knowing whether a yoga can accommodate them is important to determine before you purchase the online gift.   Instead consider Yoga Emergency's suggested yoga gifts for great yoga studios organized by occasion such as Birthday, Anniversary, Wedding, Wedding Shower, Bridal Shower,  Mother's Day and Father's Day.
If they have never done yoga before then choose a beginner yoga class, restorative yoga class, gentle yoga class, introduction yoga class or beginner hatha yoga class.  Avoid vinyasa, hot yoga, bikram yoga or ashtanga for yoga beginners.  Also avoid an all levels class since they often can be intimidating for yoga newbies. If they are very athletic and fit and want something very challenging you can consider buying them a more challenging yoga class or yoga class series.
Location, Location, Location. Be sure to choose a yoga studio close to your intended gift recipient's home. After a half day of yoga, you will want your recipient to get home in a reasonable amount of time so they can ooze into a lounge chair and live out the rest of the day in a state of bliss.
Make it easy, make it meaningful, make it now. Instant gratification is the mode of the day and the beauty of online yoga gift certificates is that they are instantaneous. It's your anniversary, you have no gift, it's lunchtime—Yoga Emergency will make you look like a thoughtful, sensitive giver. It's a perfect solution for those running the risk of forgetting something important.
Know your yoga speak. There are a bewildering array of yoga levels available at yoga studios today.. To truly understand the Zen of Yoga, review the different kinds of yoga styles, yoga classes, yoga studios and yoga levels.
Press print and a copy of your gift certificate prints directly to your printer and you receive an e-mail confirmation as well.