💕 Need a Valentine's Day Idea that isn't Crowded, Overpriced & Rushed?

💞  When was the last time you got lost in your beloved's eyes?
💋 When was the last time you had an endless loving full body embrace?
🌹 Get that 5th date feeling back with a spicy and soulful Yoga-licious night.
As you go through the motions together, you and your partner can expect a closer, more romantic and more soulful relationship than ever with each other through giggles, movement and massage.

Start off the class with a guided meditation where you are your partner will form an intention together. You and your partner will do a silent blessing of gratitude to each other.
You'll start to synchronize your breath and then slowly move in unison.
As we progress, you will do poses where you mirror each other, juxtaposing your bodies.
You will be assisting and adjusting in each other in poses in simple easy-to-follow instruction.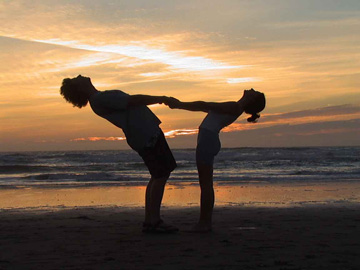 🧘🏻‍♀️ The poses are sometimes silly, sometimes challenging and sometimes restorative. After we are done with partner yoga poses you will then receive a guided Thai massage from your partner emphasizing loving intention.
You won't be worrying about technique or skill.
Your partner will do moves that relieve pain and stiffness and leave you feeling like you are blissfully floating.

After you both have received loving massages you will relax in stillness curled up in your beloved.
Our Couples Yoga Classes were voted Best Valentine's Day by
USA Today – Top 10 Romantic Things to Do in Philadelphia
Philadelphia Visitor's Bureau Top Romantic things to do in Philadelphia!
Ardmore-Merion-Wynnewood Patch
Haverford-Havertown Patch
Connect in a revitalizing, strengthening, energizing and upliftingway
Release stress and stiffness.

Explore playfulness, nurturing and buoyancy.
Learn how to guide, honor, encourage, support and receive support from each other
Yoga virgins, the stiff and inflexible are especially welcome.

Ideal for Birthdays, Celebrations, Anniversaries, Proposals and Romantic Date Nights
💕 Cost: $50 Per Person. Pre-Registration with payment required.  No walk-ins.
💋  Dates:  Sat. Feb 10th   SOLD OUT
 Wed. Feb 14th – Spots still available.

Time: 8:30 pm
Location: Private home studio in Upper Darby/Drexel Hill area.  Exact location given upon payment.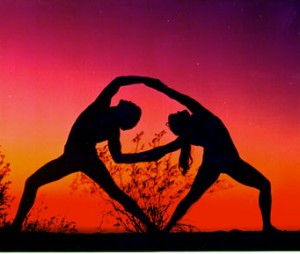 What to Bring/Wear: Please wear clothes you can stretch in, a water bottle and a willing heart.
Before: Avoid eating a heavy meal before.  Eat something light and easy to digest.
After: Plan on having a romantic evening at home with candles, soft music, wine or herbal tea.

Jasmine's yoga classes are relaxed and comfortable. She teaches to the level of all the students in the class so the poses are accessible to everyone and no one is left out. Jasmine is a kind and patient teacher who is committed to the growth of each student. She also plays a great mix of music during her classes! Cindy

"Whole New Yogic Trip"  "We really enjoyed the class. It was a gift for our relationship and so badly need. So thank you for your gift of yoga. Because for a (yoga) newbie, my husband really felt comfortable and wished we could have done more. The class you lead last week really touched our spirits which was amazing! And for me partnering is a whole new yogic trip!"  Summer

"Exactly What Our Relationship Needed"   Barbara We really enjoyed your class today.  We will be seeing you more…I can't wait to tone my body, mind and spirit (not necessarily in that order).  I think your class is exactly what our relationship needs too, we needed a way to re-connect.  I just graduated and was busy 24-7++.  Now I have a business and am busy 24-7+++ so we hardly ever see each other or even have meals together anymore.  It was good, quality time with my best friend.