Yoga, Spas, Romantic Ideas from Philadelphia and Retreats
We hope you had an enjoyable, and fun Holiday (Christmas, Hannukah, Kwanza) connecting with family & friends along with an exciting start to the New Year of 2012.  
We finished the last two weeks of 2011 visiting family and friends in Southern California and four days in Las Vegas just the two of us. Vegas. .  . a great date night ideas (weekend), and we found a room at The Rio for only $40!
We explored the sights, sounds and smells of Sin City from the gluttonous Rio Buffet, uber romantic Venetian Grand Canal, the luxurious Qua Spa at Cesar's (the best and most underrated spa in the country…. did you know I used to work at Spafinder.com for 3 years?)  and the dreamy Bellagio Watershow from 51 stories above in the Eiffel Tower at the Paris (check out our video).
We also explored some of the not so visited areas of Vegas like the Atomic Testing Museum which chronicled the nearly 1,000 nuclear detonations in the Nevada desert. Quite a contrast to the entertainment on the Strip with the fiery tribal volcano show at The Mirage, and  haunting Shark Reef Aquarium at Mandalay Bay.
We started 2012 attending a series of performances and a spiritual kirtan (concerts and chanting) at the World Beat Center in San Diego.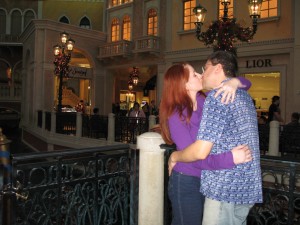 We thoroughly enjoyed the music, food and vibe all for a the recession special price of $27.50.  I usually hate New Year's Eve with all the crowded drunken revelry but this celebration was joyous and soulful.
Yep, you don't have to spend a small fortune to entertain yourself and your significant other at some of those pricey events that are so heavily promoted.
Wondering what you can do for your next date night as we start 2012?
We will soon have a section on our website sharing pictures and video of creative and fun date night ideas you can use to spice up your love life from the zany and esoteric to exceptional value that your wallet will smile about.
We recently started sharing romance and yoga lifestyle related ideas on our website under  Stuff I Like and Product Reviews.
Want to share creative date night ideas, we'd love to hear your ideas.
Guys, its good to start thinking about this stuff from now, especially with Valentines's Day about a month away.